(0)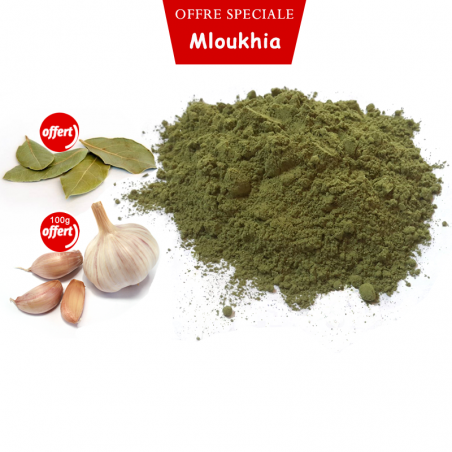  
Corchorus olitorius Mulukhiyah
Popular traditional dish with a special smell.
Secure payment
Satisfied or refunded
Terms of Sales
The mlukhia is in the form of natural powder obtained from leaves of the korean plant.
Its particular taste allows the elaboration of delicious dark green sauce, accompanied by beef.
It goes very well with bread.
we would prepare this dish for these special occasions because of its green color, symbol of fertility and prosperity.
This dish is very popular with young and old for its creaminess and taste horribly good!
virtues:
Mloukia is very good for treating a lack of potassium (often manifested by cramps).
This dish is to be served at lunch is too strong for the night.
Warning !!!
It is advisable to prepare it the day before its use, it takes a lot of time to prepare it and cook it too.
Conservation:
Store mlukhia in a cool, dry place away from light in a glass jar.
Weight: 250g.
The product sold: Resealable bag.
Bay leaves and 100g of garlic offered.